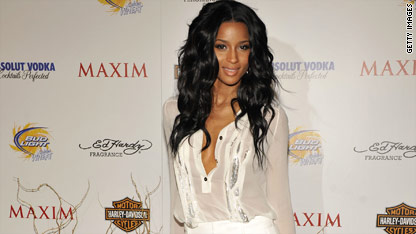 Have you seen the video for Ciara's new single "Ride" on BET?
Actually, no one has.
The R&B singer responded to HipHollywood.com about rumors the music video channel had banned the video because it's too racy.
In it, the athletic songstress appears scantily clad and gyrating while singing lyrics such as "They love the way I ride it." The video also features the rapper Ludacris.
Ciara confirmed to HipHollywood.com that BET is not showing her video, and offered a solution. (Read More…)
Check out this scan of Ciara in People Style Watch Magazine (May 2010) for "old" but new "fashion".
Also peep this scan from US Weekly Magazine's ( May 24 , 2010) beauty section. "Match each set of sexy stems to the star who sports them." I'm sure you all can figure out which pair are Ciara's sexy legs. (Click Image To See Full Scans)
NOTICE: We are still working on fixing the comments! Hang tight!
Although fans were already skeptical about BET being the only network that had not premiered Ciara's "Ride" video, it was not until last night that fans were TRULY enlightened. During Ciara's Ustream chat, Ciara's grandma, Grandma Gladys, let a "cat out of the bag". Ironically, though many "non-family friendly" music videos have been shown on the channel in the past, "Ride" has not been accepted onto the network. Several fans voiced out by tweeting @106andPark, @BET, and even Terrance and Rocsi. Though no party has made a public statement, I'm sure they have seen the messages.
Check out what Ciara fan, JoWork, had to say about BET's disapproval of Ciara's sexy, but classy new video for "Ride"

Ciara Shows You How To Get Her Ridiculous Body In Her 'Ride' Video In Just 5 Easy Steps
You thought Ciara's new video, "Ride" (watch it below) was just a look at Ciara being bonkers hot while smacking on some gum and wearing a fur coat? Most definitely not! "Ride," featuring Ludacris, is actually Ciara's way of showing you how to get her spectacularly fit body. Here's how: (Read More…)
Just a day ago, Ciara's "Ride" was released to the iTunes Music Store. Within just an hour the track had already leaped onto the top 100 on the R&B/Soul chart, and before noon it was sitting in the top 100 on main.
In addition to the single's great success thus far, the "Ride" video made a tremendous leap in its first day of release. It is currently planted at #1 on iTunes music videos. It managed to pass up Lady GaGa's "Telephone" within hours! The video is still one of the most discussed on YouTube, and has gained over 1.6 million views in one short week!
The "Ride" ringtone has also become a major threat on the charts! It is currently the #23rd most downloaded for iPhone.
Continue to support the song. I'm positive it will be in the top ten in no time, considering it managed to punch its way in into the top 50 in one day. Click to purchase.
Current Positions:
iTunes Main: #41
iTunes R&B/Soul: #4
iTunes Main Ringtones: #23
iTunes R&B Soul Ringtones: #3
Itunes Main Music Videos: #1
Ciara's brand new video, "Ride", has been getting quite the attention it deserves. Twitter, being currently the fastest and most popular way to update people on information globally, has been buzzing about the video since its Wednesday release on VeVo.  We took the time to put together a buzz post. Check out what these people had to say about Ciara's "Ride".
Celebs
Kevin Hart[@KevinHart4Real]:
yooooooo @ciara video is a fucking prblem, I know i'm late as shit but I had 2 speak on it!!!!!!

The name of the song and video is called "RIDE" fella's go watch this nooooooooowwwwww
MC Hammer[@MCHammer]:  Hammer Tweeted the video.
Teyana Taylor[@TeyanaTaylor]:
I'm happy @Ciara is back on her old steez. Excellent job wit the new vid.
Sammie[@PrinceSammie]:
THIS just IN: I am in love with @Ciara OMG. If she dates any guy that's NOT me I'm ruining the relationship (Read More…)
Billboard.Com's review of Ciara's new video "Ride":
When Kanye West sees Ciara's "Ride" video, he'll probably save a special place for it next to "Single Ladies" as one of the best videos of all time. In the clip for her new single featuring Ludacris, Ciara glides, bounces, and gyrates with extreme emphasis on her lady parts. If her pointing over the words, "Booties look like this size," doesn't enrapture viewers, then her floor-humping during the line, "I can do it however you want," should do the trick.
Ciara employs every exaggeratedly sexual dance move in the book in "Ride." Other highlights: Ciara fans her backside with an Atlanta Braves hat. Ciara peels her leggings down an inch before enjoying a mechanical bull ride in a wet T-shirt. Ciara dons a cut-out bodysuit and fur coat and leans against a car, promptly crossing off three more items off on her checklist of male fantasies. When Ludacris first appears with Ciara purring in his ear, all he can do is smile.
Credit: @Casellono
Lady Gaga tells People Magazine that she would love to work with Ciara and Nelly Furtado in the near future.

Hopefully that will come true! I can picture there being a ton of Love, Games, And Sexy!